$28.96
The Anti Theft Lock is made entirely of metal, it is sturdy and durable
The alarm sound is able to reach to 110 db, the measure of the locking pin 7 mm that allows us to set at 360 degrees, and it is possible to fix it in any position
It comes with two keys, it is ideal for motorcycles, bicycles, scooters and any vehicle where there are holes or spokes on a wheel
Motion sensor with 5 seconds delay and rust-resistant, weather-resistant, resistant to destroy physical and waterproof
The package is included 1 motorcycle Disc Lock 2 keys and 1 allen key ,you can use the supplied allen key to unscrew the 4 screws in the back of our lock
Description

YOHOOLYO has a professional engineering and technical staff and R&D team to provide you with high-quality design and production.
YOHOOLYO motorcycle disc lock with alarm was updated at least 3 times to help follower solve the technical problem like waterproofing and batteries.
YOHOOLYO believes in enhancing relationships to pursue innovation.
We pride ourselves in giving our follower the smoothest online shopping experience.
YOHOOLYO Disc Brake Lock, Anti-theft Motorcycle Motorbike Alarm Disc Lock, 110dB Sound Powersports Alarms.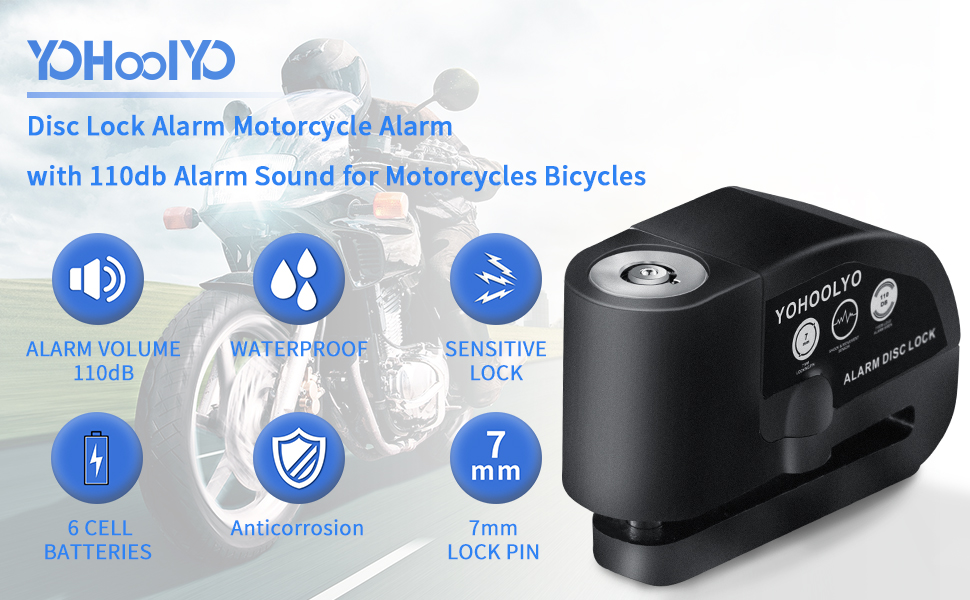 Sturdy and durable Disc Lock
YOHOOLYO Disc Lock Alarm is made entirely of metal which is both sturdy and durable.
Intelligent anti-theft Motorcycle Lock
Application:Turn the key to release the lock and turn off the alarm.To install, just line up the lock so the metal bar goes through one of the wholes in the disc brake (front or back tire).Once it's lined up, push the button to slide the bar through, and it's set.
If someone touches your motocycle, the disc wheel lock will emit 3 long beeps then emit a louder sound and prolonged at intervals of 10 seconds.
Every lock key from YOHOOLYO are totally different to protect your vehicle.You must keep your 2 keys properly.
Application of the reminder cable:
Serves as a sign for others that a anti-theft device is in use and as a reminder to riders to remove the device before riding.
Extends from the tire to the handle bars, but you can choose to place it wherever you choose.
Material: aluminium alloy
With built-in 6 Pcs AG13 batteries and extra 6 pcs batteries.
Power supply: 6 Batteries.You can replace this lock batteries with LR44/AG13/A76 button batteries from yourselves.
Package:1x Disc lock,1x 5ft Reminder Cable,1x Carrying Pouch,12xBatteries,1xAllen key, 2x Disc lock alarm key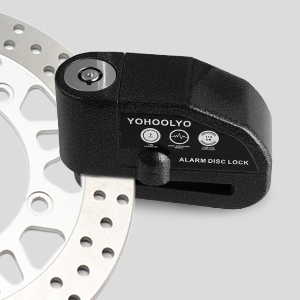 Anti-Theft Disc Lock Sensitive Alarm
Reminder:This alarm disc lock only can be used in disc brake with holes.
The lock pin is 7mm which is enough longer for your disc brake.
It comes with two keys which is ideal for motorcycles bicycles scooters holes or spokes on a wheel.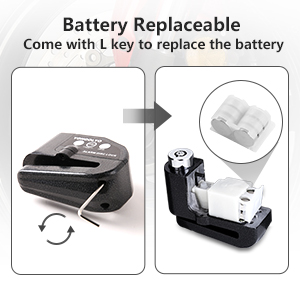 Extra Batteries and L Key to Replace
When the lock no longer make sharp alarms,instead produce constant sound "Ge Ge Ge…", that means the battery is going to be exhausted and you need to replace them.
Each motorcycle wheel lock is pre-fitted with 6 LR44 batteries and extra 6 pcs batteries.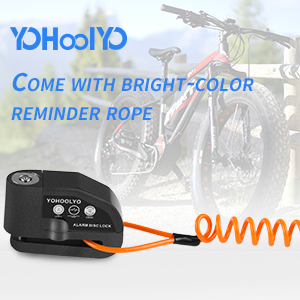 Widely Application with Reminder Cable
With reminder cable to remind you to take down the lock before riding the vehicle.
YOHOOLYO disc lock alarm fits most Motorcycles,Scooters, Cruiser,Chopper, Sport Bike, Racing Bike. Such as: Harley,Aprilia, BMW, Buell,Honda, Kawasaki,Suzuki, KTM,Triumph and Yamaha.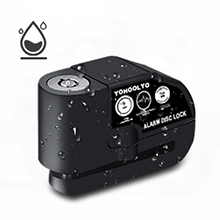 Waterproof Disc Lock Alarm
Durable Rustless Aluminium Alloy Disc Lock Alarm for rainy days.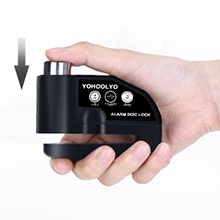 Press It to Be Locked
Place the lock on the disc brake correctly and press it to be locked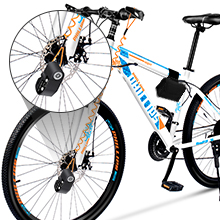 Adapt To Disc Brake Bike
Only can be used for the bike or vehicle with disc brake.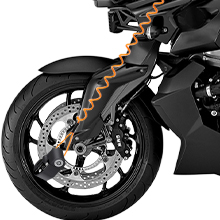 Disc Brake Motorcycle Lock
Equiped with sensitive alarm 110 db alarm sound to repel the thief.