$12.99
Adorable and cute baby nonslip socks, High quality baby walking socks with good elastic
yohoolyo baby socks: Suitable for 10-36 months baby boys and girls,may a little big,pls check dimension
baby non skid socks: Anti-slip skid socks and the grips on the bottoms of the booties make it easier for your baby to move around the hardwood floors.
baby anti slip socks:The pack comes with 6 individually wrapped pink, purple, green, yellow, blue , black and red socks. The socks have a cute little strap to help keep the socks on. The strap is a comfortable fit too. Tight enough to keep them on.
Grip socks for toddlers: The socks are decently thick and roomy – will fit a variety of age ranges easily. Even if your child's feet are small you will get a lot of use out of these because they have room to grow into them. The socks also have a nice amount of stretch to them and are really easy to slide on. The strap across the top keeps them in place but is not tight against the foot so its comfy for them to wear.
Description
YOHOOLYO Baby Socks 6 Pairs Anti Skid Slip Grip Socks for Toddlers 8-36 Months Toddler and Infants
6 Pair baby grip nonslip socks
Soft and comfortable baby socks
Anti skid baby socks with dot in the bottom
Elastic,Soft,Delicate,Non-skid ,Anti-slip, Grip Baby socks from YOHOOLYO for your lovely baby to walk or crawl on the floor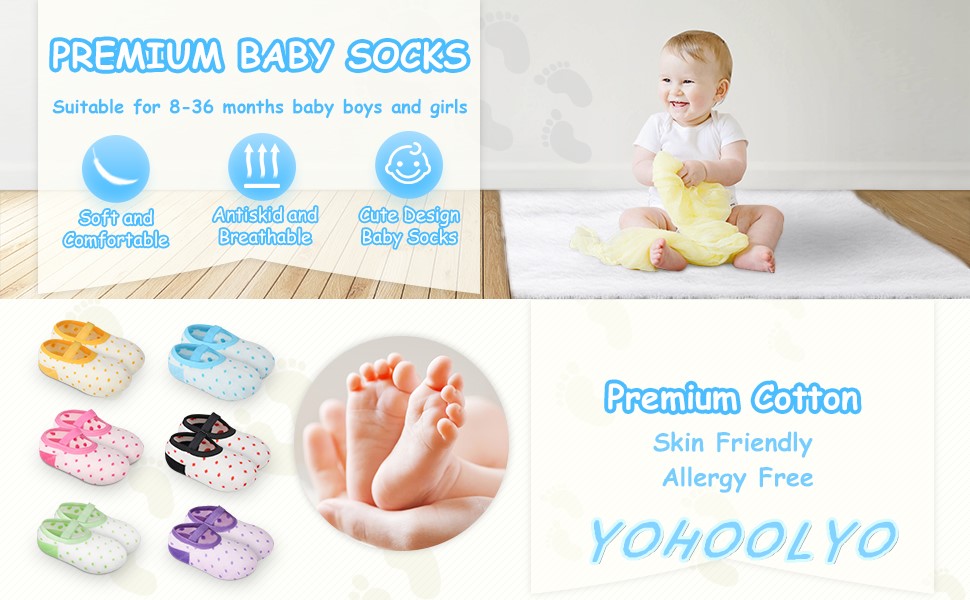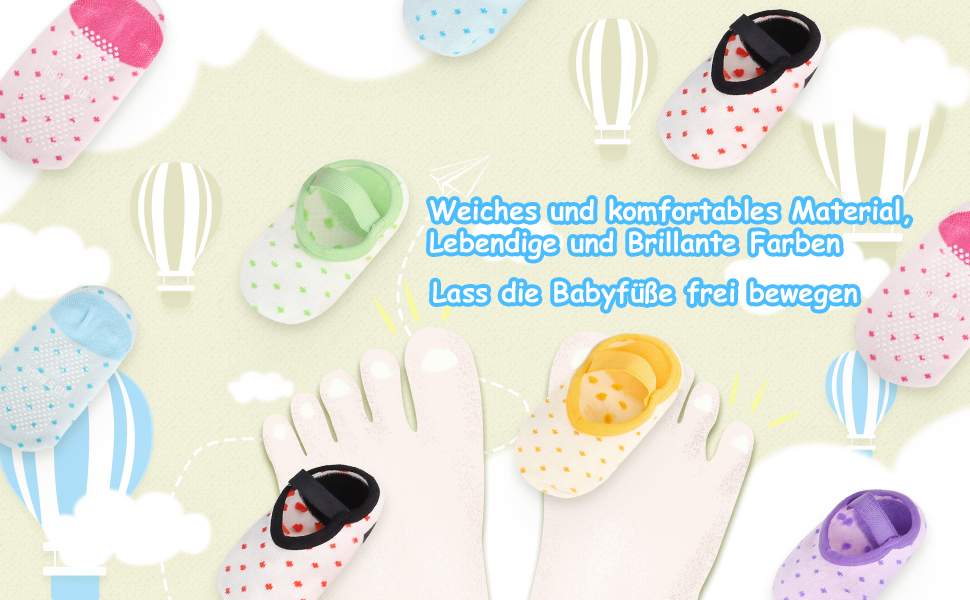 The hot discussion about size of YOHOOLYO baby or toddler socks. Below is the suggestion for the size.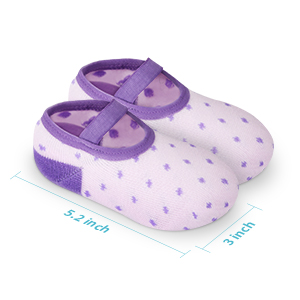 Elastic Baby Socks Dimension
5.2 inch length,3 inch width
How to judge the foot size of your baby?
The tiled length of your baby foot should be greater than 4 inch.
You can take the apple 5s for reference,the size of 5s is 4 inch.
Can I get the actual design color when I purchase ?
Yes.You will get this grip socks as you see in the picture.
For toddler or baby crawl in the carpet
Adapt to season: Spring,Autumn,Summer,need thicker sock with this socks in Winter.
6 Pair Baby Toddler Socks
YOHOOLYO 6 kinds of color baby socks with grips on bottom
Pink
Blue
Cyan
Black
Yellow
Purple
Does the nonskid baby socks stay on?
These have a little elastic band on the top.